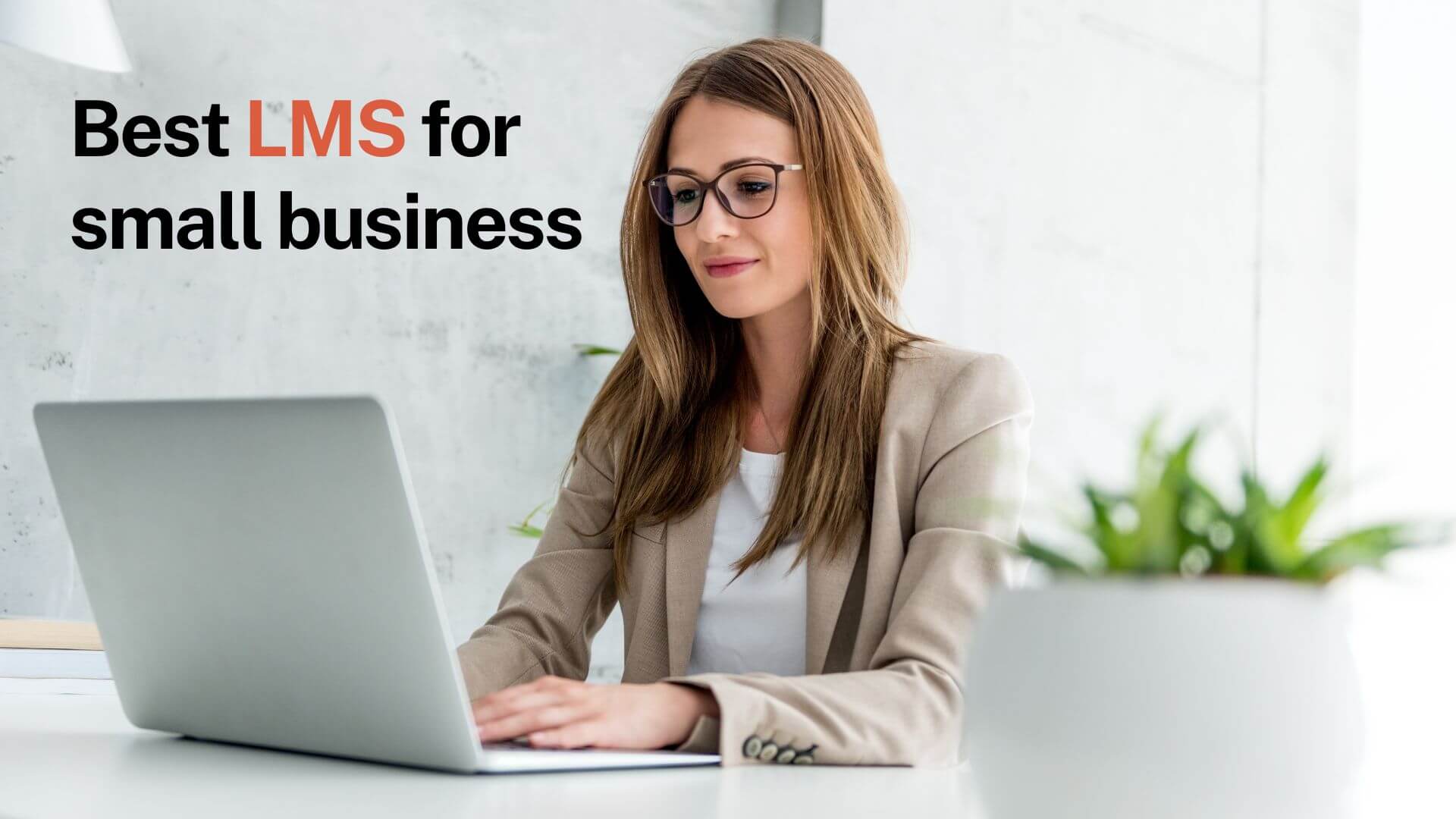 Introduction
What is the best LMS for small business? In today's fast-paced, technology-driven world, Learning Management Systems (LMS) have become essential tools for businesses of all sizes. However, for small businesses with unique needs, choosing the best LMS is more critical than ever.
What is a Learning Management System (LMS)? – Best LMS for Small Business
Before we dive into the best LMS solutions, let's get clear about what an LMS is. A Learning Management System is a software application that manages the administration, tracking, reporting, and delivery of educational courses, training programs, or learning and development programs.
Why Small Businesses Need an LMS – Best LMS for Small Business
A Learning Management System is a software application that facilitates the administration, documentation, tracking, reporting, and delivery of educational courses or training programs. The reasons to invest in a robust LMS are plenty.
LMS software can help you centralize your organization's internal learning and training initiatives. They can also improve your employee engagement and enhance your employee's information retention. Advanced LMS analytics make tracking training compliance easier, too​​.
The best LMS for small businesses offer features that align with their specific needs. Here are the main features to look out for:
Customizable Branding: The ability to change the appearance of your training portal so it includes your corporate logo and resembles your company brand​​.
Course Content Libraries: Systems that come with preloaded content libraries for a variety of industries, allowing access to top-quality material without having to create it from scratch​​.
Multimedia Content Authoring Tools: The ability to combine multimedia files such as text, images, video clips, audio clips, presentation slides, web links, and more into engaging digital training content​​.
Learning Paths: A feature that allows you to organize training content so it must be completed sequentially​​.
Distinct Learning Groups: It's helpful to be able to designate training courses for distinct employee groups since not all training will be relevant for all roles. Having different learning groups makes it easier to maintain a better user experience, by only giving users access to what they need​​.
Key Features to Look for in an LMS – Best LMS for Small Business
Choosing the best LMS requires understanding your business needs and matching them with the features of potential LMS solutions. Key features to look for include:
User-Friendly Interface: An LMS should be easy to navigate for both administrators and learners.
Mobile Accessibility: The ability to access learning materials anytime, anywhere is crucial in today's mobile world.
Customizability: The LMS should allow you to tailor courses to your business needs.
Analytics and Reporting: Real-time data on learner progress and course efficacy is vital for informed decision making.
Integration: The LMS should seamlessly integrate with other key software platforms your company uses.
Customer Support: Responsive customer service is essential, especially when you're dealing with new technology.
Usability: The system should organize online learning content in an easily understandable way. Systems that customize how content is displayed for different user groups to avoid a cluttered user experience are preferable​.
Value for Money: The pricing structures should be transparent and affordable for small businesses.
Top Learning Management Systems for Small Businesses – Best LMS for Small Business
There are several LMS platforms tailored to the needs of small businesses. Let's review some of the best in the market:
In today's fast-paced, ever-evolving world, businesses of all sizes need a system to impart knowledge, skill, and expertise to their workforce in a convenient and efficient manner. As a small business, you might be on the lookout for a comprehensive, yet affordable learning management system (LMS) tailored to your unique needs. To make your search easier, we have compiled a list of the best LMS platforms ideal for small businesses.
1. LearningHUB – The best LMS for small business
LearningHUB, a specialized version of Cornerstone OnDemand for small businesses, is a dynamic solution that offers the perfect blend of robust features and user-friendly interface. Its versatility and customization options allow it to cater to a wide array of small business needs.
Key Features: LearningHUB simplifies learning management through automated administrative tasks and a highly customizable learning environment. It supports mobile learning, ensuring that your team can learn at their own pace, no matter where they are. With its advanced analytics and reporting features, you can track learner progress, measure course effectiveness, and gain actionable insights.
Additionally, LearningHUB integrates seamlessly with other software systems, reducing the need for multiple platforms. And with a dedicated support team, help is never far away.
Remember, when choosing an LMS, it's vital to consider factors such as your specific business needs, the scalability of the platform, ease of use, mobile accessibility, and customer support.
Why LearningHUB? While all the platforms in this article are highly rated, we firmly believe that the LearningHUB, a specialized version of Cornerstone OnDemand, offers the best all-around solution for small businesses. It's a one-stop-shop for all your learning and development needs.
Are you intrigued? If so, we're delighted to invite you to a free demo of LearningHUB. Get a firsthand experience of how LearningHUB can drive your small business towards success. Sign up now!
2. TalentLMS
TalentLMS stands tall as an efficient and user-friendly learning management system. It effectively simplifies course management, progress tracking, and evaluation of course effectiveness.
Key Features: Course creation, evaluation, and certification are breeze with TalentLMS. It also enables real-time communication and offers gamification tools to make learning more interactive and engaging. The platform supports multimedia content and integrates with popular productivity tools like Google Drive and Dropbox.
Why TalentLMS? For a small business, the affordability and scalability of TalentLMS are significant advantages. Its cloud-based architecture eliminates the need for any hardware investment. Moreover, its customization options let you tailor the platform to reflect your brand, creating a more personalized learning environment.
3. WorkWize
A fully automated and multilingual learning management system, WorkWize caters to the diverse needs of small businesses across the globe.
Key Features: WorkWize offers automated user enrollment, risk assessment, and non-compliance reporting. It also allows seamless integration with email and HR systems, enabling effective learner management.
Why WorkWize? WorkWize's key strength lies in its Closed Loop Compliance system, ensuring that businesses stay up-to-date with regulatory changes. This, combined with its strong learning management automation, reduces administrative burdens and helps optimize training operations.
4. Coassemble
Formerly eCoach, Coassemble offers a complete learning management solution that allows businesses to create personalized staff training programs and simultaneously manage multiple courses.
Key Features: Coassemble uses authoring apps and LMBs, making it intuitive and easy to use. It comes with numerous predefined and customizable templates and offers onboarding help, live chat access, and local support.
Why Coassemble? As an affordable and mobile-optimized LMS, Coassemble is an ideal tool for small businesses. It integrates with any third-party app like Slack, MailChimp, and Gmail, using Zapier, offering added functionality and automation.
5. Adobe Captivate Prime
A learner-centric platform, Adobe Captivate Prime enables businesses to effectively set up and measure students' training.
Key Features: Adobe Captivate Prime boasts of its unique Fluidic Player, ensuring all your courses look stunning on any device or browser. It supports all major e-learning and document formats, catering to various training needs.
Why Adobe Captivate Prime? Its versatility and flexibility make it a suitable LMS for small businesses. The platform's user-friendly interface and responsive design ensure an engaging and convenient learning experience.
6. Moodle
Moodle is an open-source LMS platform that offers a customizable and secure learning environment for businesses.
Key Features: Moodle supports a wide range of plugins for different functionalities. It offers features like calendar, grade book, and file management. It also includes support for many types of content, including text, audio, video, and embedded web content.
Why Moodle? As an open-source LMS, Moodle allows small businesses to adjust the platform to meet their specific needs. It's also a cost-effective choice since there's no license fee involved.
7. LearnDash
LearnDash is a WordPress-based LMS known for its ease of use, making it suitable for small businesses without much technical expertise.
Key Features: It offers features such as multi-tier courses, drip-feed content, advanced quizzes, and certificates and badges. LearnDash also provides a dedicated forum for course discussions to facilitate learner interaction.
Why LearnDash? LearnDash is easy to set up and can be integrated with various tools and plugins, providing flexibility for small businesses. Plus, it provides comprehensive reports that allow you to track and monitor learning progress.
8. Docebo
Docebo is an AI-powered LMS that offers personalized and automated learning experiences.
Key Features: Docebo supports content curation, social learning, and mobile learning. It also integrates with video conferencing tools, making it ideal for remote learning and training.
Why Docebo? With its AI capabilities, Docebo can provide personalized learning paths and automate content distribution, making it a convenient choice for small businesses.
9. Thinkific
Thinkific is a user-friendly LMS designed to help businesses create, market, and sell their own online courses.
Key Features: Thinkific offers a robust set of tools to create engaging multimedia courses. It also provides features for marketing and selling courses, including built-in sales and marketing tools, full e-commerce, and secure cloud hosting.
Why Thinkific? The ability to monetize courses makes Thinkific an attractive choice for small businesses that wish to generate additional revenue streams. It's also a scalable solution that grows with your business.
10. Canvas
Canvas is a popular LMS used by businesses, providing a flexible and customizable learning environment.
Key Features: Canvas offers features like an interactive learning environment, integrated tools, mobile applications, and comprehensive analytics. It also integrates with numerous third-party apps, providing greater flexibility.
Why Canvas? Canvas provides a robust and versatile LMS solution that can be tailored to suit various learning needs. Its mobile-friendly nature also allows learners to access courses anytime, anywhere, making it suitable for remote workforces.
11. Google Classroom
As part of Google's suite of tools, Google Classroom offers a free and user-friendly platform for educational institutions and businesses alike.
Key Features: Google Classroom allows you to create and distribute assignments, communicate with your team, and stay organized with Google Drive integration. It also supports grading assignments and providing feedback.
Why Google Classroom? If your team is already using Google Workspace, Google Classroom will be a natural and seamless addition. Moreover, it's free to use and easy to navigate, making it a cost-effective choice for small businesses.
12. SkyPrep
SkyPrep is an LMS aimed at helping businesses train employees effectively and efficiently. It's designed to be user-friendly and scalable, catering to businesses of all sizes.
Key Features: SkyPrep offers course authoring, exams and quizzes, progress tracking, automated grading, and certificates upon completion. It also includes detailed reporting to analyze performance and identify areas for improvement.
Why SkyPrep? SkyPrep provides a combination of robust functionality and straightforward usability. It also focuses on compliance training, which is essential for many businesses.
13. WizIQ
WizIQ is an LMS that focuses on delivering live and on-demand webinars and online courses. It's ideal for businesses seeking to provide real-time, interactive training.
Key Features: WizIQ offers course creation, virtual classroom, tests and assessments, analytics and reports, and mobile learning. It also provides eCommerce features, allowing businesses to sell their courses online.
Why WizIQ? If your business relies on webinars or real-time training, WizIQ offers robust capabilities in this area. Plus, the opportunity to monetize courses makes it an attractive option for businesses looking to generate additional income.
These platforms all have unique features and capabilities that cater to various learning and training needs. Understanding your specific requirements and budget will help you determine the best LMS for your small business. Remember, the best tool is the one that offers the features you need at a price that fits within your budget.
14. iSpring Learn
iSpring Learn is a fast LMS for your mission-critical project. It allows for the quick launching of a corporate training program, with powerful reporting features to monitor the results.
Key Features: Easy course uploading, advanced reporting, a mobile app for offline learning, unlimited storage, and a learner portal.
Why iSpring Learn? iSpring Learn is best known for its user-friendly interface, fast deployment, and comprehensive customer support. If you need an LMS to be up and running quickly, this is a good choice.
15. Zoho ShowTime
Zoho ShowTime is a single comprehensive platform to manage and run webinar training. It's an excellent option for small businesses that rely heavily on webinars for training.
Key Features: Session registration, screen sharing, real-time audience engagement, trainer profiles, and insightful reports.
Why Zoho ShowTime? Zoho ShowTime is a solid choice for businesses that require a platform for hosting interactive training webinars. It offers a range of tools for audience engagement, making training sessions more effective.
16. Looop
Looop is an easy-to-use platform that makes it simple to create impactful and effective employee training. It's designed to suit the needs of businesses of all sizes.
Key Features: Automated workflows, event scheduling, reports and analytics, API access, and unlimited resources.
Why Looop? Looop is ideal for companies looking for a simple yet powerful LMS, focusing on ensuring employees can quickly find and understand the information they need.
All of these platforms offer unique features and benefits, and the key is to understand your needs and constraints to select the best LMS for your small business.
Conclusion – The best LMS for small business
Choosing the right LMS is critical for the growth and success of your small business. The five options detailed above offer a blend of features, flexibility, affordability, and scalability, making them well suited to the unique requirements of small businesses.
By integrating one of these robust LMS platforms, you can not only enhance the skills of your workforce but also drive better business outcomes.
Whether you choose LearningHUB for its simplicity, SAP Litmos for its extensive content library, WorkWize for its compliance features, Coassemble for its affordability, or Adobe Captivate Prime for its learner-centric approach, you're making an investment in your company's future success.
Q&A Summary – The best LMS for Small Business
What is LearningHUB and what key features does it offer?
LearningHUB is a Learning Management System (LMS) that provides an intuitive and user-friendly interface for creating, delivering, and tracking e-learning. Key features include easy content creation, the ability to import and export data, advanced analytics for tracking learner progress, and a mobile-friendly design. It also offers integrations with other software and systems for added flexibility​.
Why is LearningHUB an ideal choice for small businesses?
LearningHUB is an ideal choice for small businesses because it's designed to be easy to use and flexible. Its intuitive interface simplifies the creation and delivery of e-learning content, making it suitable for businesses with limited technical expertise. 
Additionally, its mobile-friendly design allows learners to access content anytime, anywhere, making it convenient for today's increasingly remote and flexible workforces. Advanced analytics enable businesses to track learner progress and evaluate the effectiveness of their training programs​.
What are some key considerations when selecting a Learning Management System for a small business?
When selecting an LMS for a small business, it's important to consider the system's features, flexibility, affordability, and scalability. The chosen LMS should meet the specific learning and training needs of the business, be easy to use and offer a good return on investment. Integration capabilities with other software or systems used by the business may also be a key factor to consider​​.
How can an LMS contribute to the success of a small business?
A robust LMS can enhance the skills of the workforce and drive better business outcomes. It allows businesses to provide effective training and continuous learning opportunities, which can improve employee productivity and job satisfaction. An LMS can also contribute to compliance, performance management, and tracking of learning and development goals, thereby supporting the growth and success of the business​​.
CSOD Project Manager